California Women's Agenda
CAWA is a state action alliance of over 600 Organizations in California, working together to implement the Beijing Platform at the grassroots.
CAWA is linking millions of women and girls in collective action through real and "virtual" networks.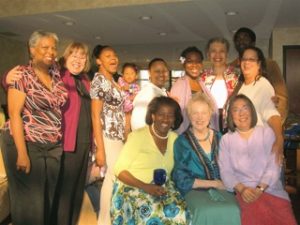 CAWA is a network that is organizing – not an organization that is networking.
CAWA Platform for Action
Task Force summaries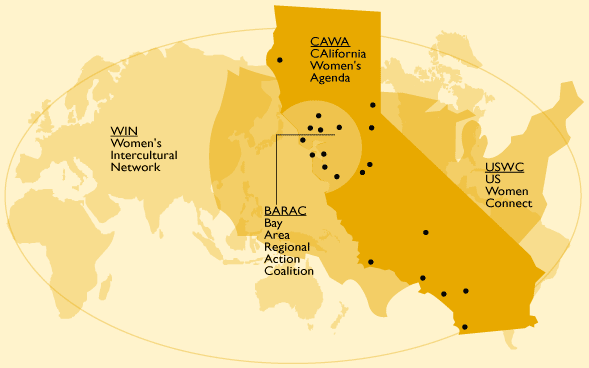 CAWA: County and Regional Coalitions
CAWA connects through a network of 19 county or regional coalitions with volunteer coordinators. There are over 600 organizations within these networks – from small single-issue groups to chapters of large national and international organizations – collectively reaching a base constituency of over one million women and girls. The network is further enlarged by other human rights and social justice coalitions with which CAWA is affiliated. County coalitions use the 1996 CAWA Plan of Action (updated in 2000 and 2005) as their framework for action on critical concerns and policy issues. Men who support our goals are welcome and active in the CAWA network.
CAWA: County and Regional Coalitions
BARAC: Bay Area Regional Action Coalition
Please consider a donation to CAWA to help us mobilize California Women for social, health and economic justice. DONATE
The CAWA Plan of Action was updated in February 2000 for the U.S. Beijing+5 Followup Report, which went on to the Special UN General Assembly in June 2000. See the Beijing Platform for Action archives at the Women's Intercultural Network for more background.
from the February 26, 2000 Beijing +5 Prep Conference.The CAWA plan was originally written in June 1996, following the Fourth World Conference on Women, specifically for and by the girls and women of California. The California Task Forces drafted reports that address the 12 areas outlined in the UN Platform For Action:
TASK FORCE SUMMARIES:
Add your voice by reviewing the California Task force summaries and full reports. Then send comments on what has happened in your region, and recommendations about the California Women's Agenda Report.