Economic Justice: Lenka Belkova, CAWA Policy Chair on Economic Justice
California Women's Agenda (CAWA) 2010-1015
Economic Justice Report
CAWA Policy Chair Lenka Belkova
"All work performed by women is important – paid and non-paid."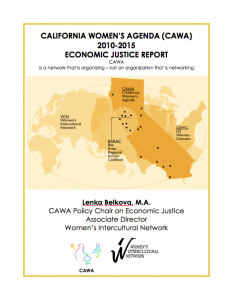 Vision Statement
This vision statement was adopted from previous CAWA Reports on Economic Justice.
All work performed by women is important—paid or non-paid. Women should have an equal share of the wealth of this country, and this entails equal pay for equal work and the equal opportunity to earn an income, whether they work inside or outside the home. We must develop laws and enforcement strategies that address inequality and ensure economic justice for all women—specifically marginalized groups such as women of color, older women, and women with disabilities. In this spirit, the following report highlights past economic achievements for women and girls in California and points out some persistent barriers to economic gender equality. It then offers strategies for facilitating economic justice.
Issue Areas
Family Policies, Affordable Child Care, Economic Development, Occupational Segregation, Gender Pay Gap, Immigration, Female Veterans
Introduction
The inclusion of female representation at all levels of government is necessary to strengthen women's rights on the federal and local levels. Two historic milestones in women's advancement were the founding of the Women's Bureau of the U.S. Department of Labor in 1920 and the President's Commission on the Status of Women in 1961. While the Bureau was established to advocate for improving conditions for women in the workforce, the Commission laid out a comprehensive policy agenda for women's advancement. Before the Commission ended its activities after two years, it published a final comprehensive report on the status of women in the U.S. in all areas of public life—that is, social, cultural, economic, and political. It was a groundbreaking report that outlined key areas of discrimination against women and emphasized the need for further action. The document, titled "American Women," included points pertaining to gender, economic justice, and security. These key points also addressed the need for family policies, from paid maternity leave to affordable child care and from equal pay for equal work to the extension of workers' rights to include domestic and agricultural workers—issues that have not been comprehensively addressed on the national level as of over 50 years later. Today, efforts to mitigate gender inequality are focused on the local level, where diverse initiatives are being implemented. The state of California is taking a lead in these efforts.
In addressing these issues, states and municipalities have played the significant role of implementing innovative strategies at the local level to help women and their families advance. New Californian laws and/or legislative amendments to better assist families and combat women's discrimination have been passed and implemented in the last five years, including the following legislative wins.
See the PDF above for the full report.
________________________________________________________________________________________________

Economic Justice – Edited by Aimee Durfee

Summary of CAWA Beijing +10 Call To Action Discussion Groups, 2005 (click here for 1996 report)

On December 4, 2004 two hundred women from all over California gathered in San Francisco to reflect on economic issues facing women in our state. This document details their collective analysis of primary economic issues facing California women, and their ideas and recommendations for change.

THE PROBLEMS:

• Women's work is undervalued: family work is unpaid, women's wages are lower than men's, and the glass ceiling is still a huge barrier – gender and race discrimination result in unequal access.
• Women still balance career and family, which affect income levels for working moms.
• Many older women are obligated to keep working because they had jobs with no benefits or retirement savings.
• Women's economic issues are connected with violence against women, especially domestic violence and sexual assault.
• Women are forced to rely on the underground economy, marginalizing them from other economic opportunities and job training.
• We do not have a moral approach to wages and income – it is immoral that women earn too little to pay for basic needs.
• Housing issues affect everything in women's lives: People are spending at least 50% (and up to 70%) of their income on housing, and alternatives such as mobile homes are being eliminated.

SUGGESTED SOLUTIONS:

Systemic/Cultural/Perceptual Changes:
• Move institutions to a self-sufficiency model: adoption of self-sufficiency standards at national, state and local level, redefine the poverty line to a self-sufficiency level, make cost of living adjustments by geographic area, increase the minimum wage and/or tie it to local cost of living.
• Foster a paradigm shift on the growing wave of privatization: expose the high costs of privatization in all aspects (impact on economy, community life, family life, individual growth, etc), demand health benefits as a human right, even during unemployment, include a social consciousness component in MBA curriculums, and educate businesses that "taking care of people is a good business practice."
• Work to end the cycle of intergenerational poverty: promote the fact that low-income women can save money and build assets, and change financial institutions to open up to new ways of making it happen.
• Gender paradigm change that eases working moms' "double shift": equip men to feel comfortable as a primary parent, encourage equal parenting time and equitable child support enforcement, support job-share arrangements by employers.

Policy & Program Changes:
• To get access to high-wage jobs, women need job training & education (including in the welfare system);
• Pre-tax deductions for infant/child care, support on-site childcare at the workplace;
• More bilingual training for limited English speaking women;
• Better financial aid for students who are supporting a family while in school;
• More micro-loan assistance and help starting small businesses for women;
• Job protection for workers to openly discuss differences in wages;
• More culturally competent health care for women;
• Loan-forgiveness programs for higher education to get graduates into service-type professions;
• Bring grandparents to child care centers to provide child care ;
• Encourage use of employer-based dependent care flex accounts (model program at PG&E).

Organizing Changes:
• Women need to form a women's union, and we need to train women advocates to influence the public discourse.
• Use technology better: we need a website for networking among women who want to share organizing tactics that are working, and a website for women to network for their careers and move up the economic ladder.
• New messages and allies: use "pro-family" message to talk about child care, educate corporations, consumers and legislators about the need for increased economic opportunity for women, involve service groups (Kiwanis, Rotary) in advocating for childcare at the workplace.
• Money talks: we need to address the cost-effectiveness of program changes we're advocating.
• Use our power as consumers: support businesses that help women, and withdraw support from businesses that hurt women.
• Get behind the nationwide Wal-Mart gender class action lawsuit (but not a boycott because most customers of Wal-Mart are low-income earners) and draft legislation that ensures standards from the lawsuit are cemented.
• Look at corporations and their impact on women, use their state charters as a method of corporate accountability.

For the full Economic Justice Report and to give feedback on-line:
http://www.win-cawa.org/cawa/economic/economicpolicy.htm

TASK FORCE ON ECONOMIC JUSTICE, 2000

"All work performed by women is important – paid and non-paid."

Co-Chairs:
Jenny Erwin, Regional Administrator, Women's Bureau, DOL
Sonia Melara, Executive Director, SF Commission on the Status of Women
Linda Burnham

VISION STATEMENT

All work performed by women is important – paid and non-paid. Women should be empowered to have a share of the wealth of this country. This includes equal pay for equal work, and the equitable opportunity to earn an income, whether they work inside or outside the home. We must develop laws to address inequalities that have existed in our society regarding specific marginalized groups such as low-income, women of color, older women, women with disabilities, lesbians, and so on. In this spirit, we offer strategies for action to enable women to create their own economic justice.

We call on governments to support and uphold Affirmative Action in order to ensure adequate representation of women and all other minorities within the workplace, in higher education, in all other institutions, and to enforce the Americans with Disabilities Act. We ask that affirmative action be reinstated in the areas that no longer uphold it within their institutions.

RECOMMENDATIONS

California state and local government should immediately take steps to publicize the text of the following:

Beijing Declaration and Platform for Action
Human Rights commitment in the UN Charter (articles 55 and 56)
International Labor Organization relevant conventions
Treaties recently ratified by the US:
— International Covenant on Civil and Political Rights
— Convention on the Elimination of all Form of Racial Descrimination (CEDAW)
— Convention against Torture and Other Cruel, Inhuman or Degrading Treatment or Punishment

The California Senate should take leadership in obtaining ratification of CEDAW which includes many rights currently not included under California law.

To effect change in the workforce, employers and other appropriate organizations should be strongly encouraged to develop "women positive and family friendly" work environments by increasing education and guidelines to enforce laws such as for Sexual Harassment and other forms of discrimination in employment.

Add your voice by reviewing the full California Task Force Report on Economic Justice. Then send comments on what has happened in your region, and recommendations about the California Women's Agenda Report