Jessica Buchleitner, CAWA Policy Chair on Media, WIN Secretary and Communications Chair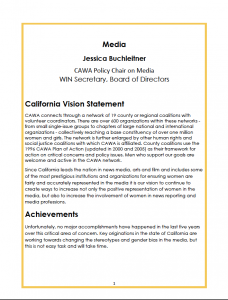 California Women's Agenda (CAWA) 2010 – 2015
Media Report
CAWA Media Chair Jessica Buchleitner
California Vision Statement
CAWA connects through a network of 19 county or regional coalitions with
volunteer coordinators. There are over 600 organizations within these networks –
from small single-issue groups to chapters of large national and international
organizations – collectively reaching a base constituency of over one million
women and girls. The network is further enlarged by other human rights and
social justice coalitions with which CAWA is affiliated. County coalitions use the
1996 CAWA Plan of Action (updated in 2000 and 2005) as their framework for
action on critical concerns and policy issues. Men who support our goals are
welcome and active in the CAWA network.
Since California leads the nation in news media, arts and film and includes some
of the most prestigious institutions and organizations for ensuring women are
fairly and accurately represented in the media it is our vision to continue to
create ways to increase not only the positive representation of women in the
media, but also to increase the involvement of women in news reporting and
media professions.
Achievements
Unfortunately, no major accomplishments have happened in the last five years
over this critical area of concern. Key originations in the state of California are
working towards changing the stereotypes and gender bias in the media, but
this is not easy task and will take time.
Obstacles Encountered
There are many obstacles identified regarding the representation and presence
of women in the media. This extends to women in film and television in addition
to women in journalism and media professions. Among the most prevalent issues
for women in film and television are the way female characters are portrayed,
the types of roles available to women in film and the lack of women employed
as film directors, studio heads or producers.
This appears to be the same case for women in journalism professions where
men dominate lead editor and producer roles in both newspaper and
broadcast journalism. Women are often given "lighter" stories to cover such as
fashion, entertainment, beauty or home and family oriented topics. Women's
journalistic voices are absent from coverage of world events and politics.
See the PDF above for the full report.
MEDIA POLICY PAPER, CAWA, 2005
By Anna Marks, Co-Chair
Rose Aguilar, Co-Chair, CAWA Media Task Force
Plan of Action for Women and Media in California
Broads in Broadcasting?

Barbara Ehrenreich noted in a Los Angeles Times Op-Ed about Abu Ghraib, "To cite an old, and far from naive, feminist saying: 'If you think equality is the goal, your standards are too low.' It is not enough to be equal to men. … It is not enough to assimilate. We need to create a world worth assimilating into."

At a time when we (women) seem to be fighting way too hard for rights already won – control over our bodies, equal access to sports, protection from violence – we need to have a voice in our world so we can protect ourselves as well project ourselves as positive images in all societies.

How can women create this world? To begin with, we need to have women in decision-making positions within the traditional and independent media. Among communications companies in the Fortune 500, women on average comprise 12% of board members. Can women rely on the mostly-white, predominately male controlled TV, print, and radio outlets, to portray women accurately?

Obviously not. In order for women to move into full equality, in a world we can be proud of, we must get more of us into these powerful positions. And once we are in these positions, we must open doors for more women to follow.

Recent studies have shown that the percentage of top editor positions at mainstream newspapers was down to 20% in 2002, that a mere quarter of syndicated columnists are women, and that only 10 to 20% of op-ed columns are written by women. (The New York Times has only one female columnist, Maureen Dowd).

In a 2004 survey, women made up only 37% of the staff at newspapers nationwide, only 34% of supervisors, and women of color represent an appallingly low 6%. It has also recently come to light that women make up less than 4% of editorial cartoonists.

Other types of traditional media are also way lacking female decision makers. Fairness and Accuracy in Reporting (FAIR) discovered "women's opinions also missing on television." And this may never change, especially as women increasingly turn to alternative sources for news and communication, particularly the Internet, where there are a gazillion sites for women and girls. We no longer need rely solely on dailies or the 11o'clock news — the average person already spends upwards of 20 hours per week online.

As long as traditional media requires mega-dollars to exist and remains controlled by only a handful of big business entities, there will always be news slanted so as not to offend supporting advertisers or corporate owners. Amazingly, many now are willing go to the extreme to actively promote products and services. This has never been so blatantly honest as it is in Reality TV where product placement and product endorsement is omnipresent, openly acknowledged, and even accepted.

It will always be the job of independent and public access media to allow for the diversity of opinions and expressions all too often missing from traditional media.

For this reason, women must increasingly look to full ownership of independent media and demand equal decision-making roles in public access — until our voices are equally heard. As long as the current state of affairs continues, we will see women stereotyped, marginalized, downplayed — often living invisibly in a society in which we are more than half the population.

Status of Women's Media in California

California leads the country in the number of women in media and media owned by women. A quick look at the women-owned publications reveals a slant towards ignored or falsely portrayed markets – girls, lesbians, professional organizations, education, nonprofits, political, literary, artistic, spiritual.

The following information (Titles and zip codes) was mostly compiled from the Directory of Women's Media

Women's Institute for Freedom of the Press
1940 Calvert Street, NW
Washington, DC

Number of Women's Periodicals in California:54
(Total USA: 290)

90024 FEM: LA's Feminist Newspaper
90024 Karisma Magazine
90045 VOCES: A Journal of Chicana/Latina Studies
90048 POWER UP
90089-0071 The Southern California Review of Law and Women's Studies
90095 SIGNS: Journal of Women in Culture & Society
90095 UCLA Women's Law Journal
90212 Ms. Magazine (Editorial Office)
90278 The CLARION
90405 Voices
90507 Lesbian News
91104 Realgirls Magazine
91320 Affilia: Journal of Women and Social Work
91320 Gender & Society
91711 Women' Studies: An Interdisciplinary Journal
91943 Asian Pacific American Women's Leadershp Institute (APAWLI)
92107 Two Girls Review
92120 Sparks Magazine
92168-0736 Women's International Center Newsletter
92177-8440 The Wishing Well
92190-0138 Sparks Magazine
92507 U.S.-Japan Women's Journal: English Supplement
92619-3064 Iran Gohar
93106-4010 Camera Obscura
94064 Women as Mentors
94102 Hasting's Women's Law Journal
94102 Curve Magazine
94103 BITCH
94109 Raising Our Voices
94110 Girlfriends
94110 Teen Voices (Bay Area)
94118 FEMSPEC
94304 The Spiral
94596 Mysterious Women
94602 The Wise Women
94612 Sister to Sister/ S2S
94618 Bay Area BusinessWoman
94703 Sinister Wisdom
94705 Passionfruit
94709 Journal of Women and Religion
94720 Berkeley Women's Law Journal
95015 The Spirit of Woman in the Moon
95061-0618 Media Watch
95155 REALSPORTS magazine
95192 Women and Therapy
95402 Sonoma County Women's Voices
95402 Women's Voices
95468 Sage Woman: Celebrating the Goddess in Every Woman
95470 Grace Millennium
95492 Women's History Network News
95473 SEP Connection

Women's Internet Publications: at least 8
90004 POWER UP
92120 Sparks Magazine.com
94607 Women's Calendar eNewsletter
94609 Coffy Time Blues
95465 Awakened Woman
95455 Keynotes
94124 www.girlgeeks.com

Women's Books Publishers: 10
94103-4114 Down There Press
94109 EdgeWork Books
94141 Aunt Lute Books (Website Publishing)
94127 Artemis Press
94708 Kelsey St. Press
94710 Third Woman Press
94965 The Post Apollo Press
95061 HerBooks
95370 Ladybug Books
95689 Volcano Press

Women's Other Media Organizations: 9
90028 Women in Film
90048 POWER UP
90069 Women's Image Network
90212 Cinewomen
94107 About-Face
94110 Women's Educational Media
94117 Radical Women
94118 Woman Vision: Social Change through the Media
94304 Institute for Women and Technology (IWT)

Women's Radio : 2
94607 WomensRadio.com and WomensRadio Channel
946 Women's Desk of the National Radio Project

Women's Film and Video
90069 Women's Image Network
90069 Independent Women Filmmakers (IWF)
90212 Cinewomen
94110 Women's Educational Media
94117 MadCat Women's International Film Festival
94 Women of Color Film Festival, UC Berkeley

Women's Media Directory
95403 Women's History Catalog

Women's Bookstores
94— Laurel Boooks
94— Change Makers Books & Gifts
95060 Herland: the Wanderground
95126 Sisterspirit Bookstore
95472 Milk and Honey