Results of Questionnaire completed by women at the Farmworkers Health Conference 2007
Summary:
Results show that from the 18 women who completed the survey their average age was 39, the majority of women were farmworkers wife's and they had an average of 4 children.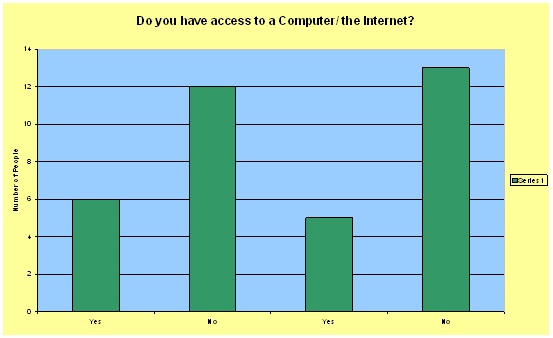 The graph above shows that of the women surveyed more than double have NO access to either a computer or to the Internet.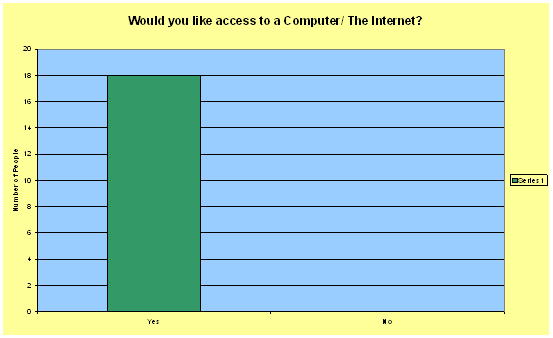 The above shows the need for computer access to women in Visalia, all of the women surveyed would like to have access to a computer and the Internet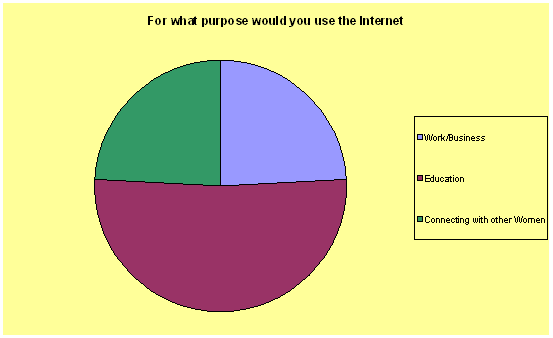 The above pie chart illustrates that women would be using the internet mainly for educational purposes, something that most people take for granted could really benefit the lives of women in Tulare County. They would also use the internet for work and for keeping in touch with other women.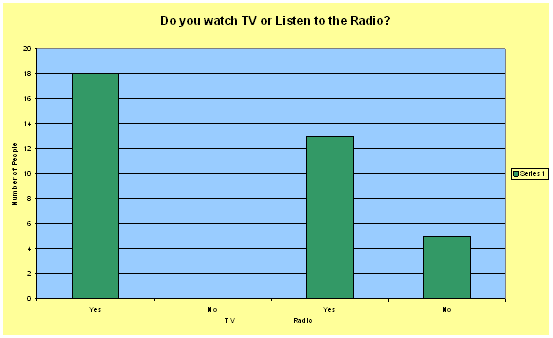 This graph shows that all the women surveyed watch the television, the most popular channels were the Spanish channels, for example 21, Univision. Most women also listen to the radio; again the popular stations were the Spanish speaking, for example La Campesina. So a good way of reaching and impacting on the women of Tulare County would be through the media of television or radio.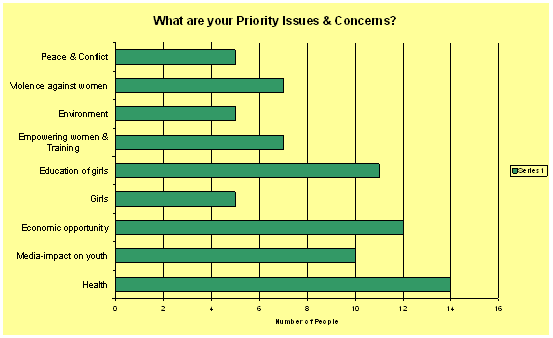 From the survey the three main priority concerns appeared to be health, closely followed by Economic opportunity and Education of girls. These are obviously the issues that impact the women of Tulare County the most on a day to day basis and are thinking of the furture of their children in the area.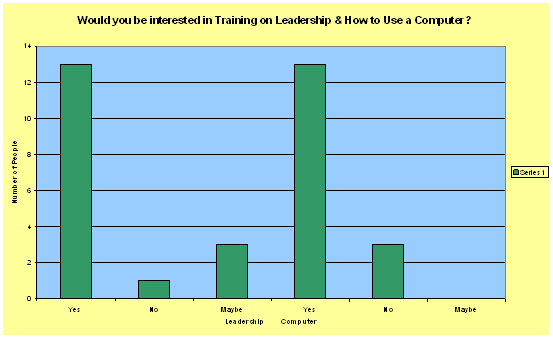 Finally of the women surveyed the majority of women seemed very interested in leadership training and all seemed interested in training on the computer and or the Internet.
Conecting the women of Tulare County to the Internet seems like the best way for them to independently move forward and once connected to the Internet, it will be easier for them research issues on health and become better educated to look forward to ecomonic stability.
© 2007 Women's Intercultural Network, Inc., Sarah Cashman 12/19/2007